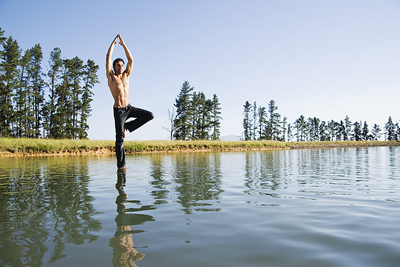 Customers come to us seeking a wide variety of benefits to enhance their lifestyle. Some yoga hikers come to distress after a long day or week in the office.
Yoga is a great compliment to hiking. Various relaxation techniques, meditations and breathing exercises are more fulfilling and grounding in natural flowing air, compared to an enclosed class where the amount of oxygen is limited. The website Health and Yoga lists more benefits of meditation, including increase in serotonin production. This influences mood and behavior. Low levels of serotonin are associated with depression, obesity, insomnia and headaches.
By integrating the yoga, we are also a lot less sore. Instead of powering up the mountains and being unaware of how they are hiking, we are focusing on the ankles, hip flexers and body motion while exercising. We eliminate the soreness after one is finished hiking by having yoga stations in intervals throughout the hike.
The combination also opens up the lungs more due to the cardio and focus on breath. We do partner yoga so that people can connect, which keep the lungs working during conversation too! A shared experience is just sweeter, since it is simply wonderful to be outdoors and interacting with like-minded people.